This is my response to a weekly prompt I found at A Daily Rythm. Be sure click through. Play along if you're so inclined.
Musing Mondays is a weekly meme that asks you to choose one of the following prompts to answer:
I'm currently reading…
Up next I think I'll read…
I bought the following book(s) in the past week…
I'm super excited to tell you about (book/author/bookish-news)…
I'm really upset by (book/author/bookish-news)…
I can't wait to get a copy of…
I wish I could read ___, but…
I blogged about ____ this past week…
THIS WEEK'S RANDOM QUESTION: Are you able to read while in a vehicle (in motion)? Have you always been this way?
First things first, I'm currently reading the "Fate of the Jedi" series of Star Wars novels. It began about a month ago with the first book, Outcast, by Aaron Allston. It was okay, but at the time I wasn't sure I planned to continue reading the series. For reasons I cannot pinpoint, I've never been a big "Science Fiction" reader, though I've always been a huge Star Wars fan. I've also never been big on plot when choosing my favorite fiction, and while there were certainly familiar characters in the book I just couldn't sink my teeth into what they were doing. It happens to me often when trying to read Sci-Fi and unless the characters are extraordinary I usually lose interest.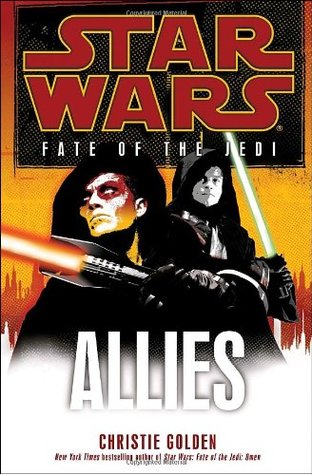 Not surprisingly, knowing many of these Star Wars characters (and the fact there were Jedi and lightsabers involved) drew me back strongly enough to give the second book, Omen, by Christie Golden, a try and the rest has been fantastic. Allston, Golden and Troy Denning alternate writing each book and I just today finished Allies, by Golden, which is number six in what became a series of NINE consecutive novels.
If you know anything about Star Wars you'll recognize many of the characters, places, races and historical tidbits in these books but I'll wager you will not know them all or be able to picture them anyway. On many occasions I'm prompted to look up a particular alien race online, to "put a face" with the name, so to speak. It certainly helps to visualize when you have such a widely diverse cast, even within one group- the Jedi, for example- much less the entire universe.
To put the setting into perspective for other fans, the "Fate of the Jedi" takes place an estimated 40 years after the events of what we know as Star Wars: Episode IV – A New Hope. I urge every reader though, Star Wars fan or not, to give the books a go. They're for the most part well-written fiction, and good, fun Summer reading. I *am* a big fan though, and they're definitely whetting my appetite for the new Star Wars movie coming this December.
RANDOM QUESTION ANSWER: I cannot read in a moving vehicle. I don't know if I did as a kid but I know as an adult, I can't even ride in a car without feeling a little dizzy and sick. I have to be driving to avoid being uncomfortable.
Thanks for reading!